Jornadas de Sever do Vouga
Portugal, 4 - 5 October 1997
---
Program and Participants

Photos Saturday, 4

Photos Sunday, 5

Documents and Conclusions
---
PHOTOS SATURDAY, 4 October
(Clicking small photos calls larger version of the photo)

---
House hosting CITIDEP Jornadas

(Sever do Vouga, Portugal)

Pedro's bedroom is first from the left, second floor; José Manuel, Margarida and Catarina's is next to the right...

---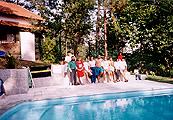 ...And its swimming pool, in the forest

(Pedro Borges, Verissimo, Eduarda, Sara, Dorita, Pedro Ferraz de Abreu, Margarida, Catarina, Guida, Joanaz, Rita, Nuno)



---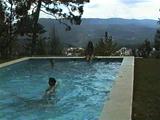 ...with a glimpse of the mountain view (Vale do Vouga)

Watch video

(1.5 Mb, takes time on slow modem!) with Netscape or Explorer

---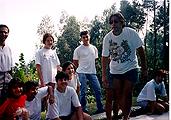 Some of saturday participants taking a break, with their families

Standing up, from the left: Nuno Vieira, Sara, Pedro Borges, José Manuel Palma.

Sitting down, from the left: Rita, Guida, João Joanaz, Dorita, Margarida)

---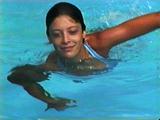 Catarina swims like a fish...




---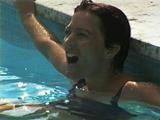 ... While her mother Margarida expresses herself :)

(No, she is not yelling, she is just having fun...)


Watch video

(1.3 Mb) with Netscape or Explorer

---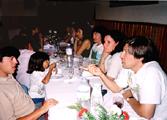 Saturday dinner, at a local restaurant

with Sever do Vouga's special gastronomy treat: Veal and Rice in "brick and wood" oven, old fashion way



---
Sacra and Fana arrived Saturday night

just in time for CITIDEP Second Session of the "Jornadas"

---



citidep@netcabo.pt

visitas: