International Conference on Public Participation and Information Technologies
Lisboa 20-22 October 1999

ICPPIT Task Force
last update: 8 April 2002
---
Mission

Composition

On-going tasks and Report

Meeting minutes
---

Mission:
Assist the ICPPIT99 Conference Committee in regard to:

Raise funding to cover ICPPIT99 expenses, including Proceedings;
Publish and distribute ICPPIT99 Proceedings;

Help CITIDEP to organize the next Conference Committee (for next ICPPIT Edition);
Support the ICPPIT research community network, until the creation of the next Conference Committee.
---

Current Composition:
If you want to join (or cooperate with) this Task Force, please mail pfa@mit.edu. All contributions are welcome.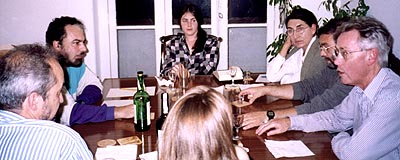 On-going urgent tasks:
Task Force Report:
Prepare Formal Event to launch Proceedings: Pedro FA. (Done).

Publish ICPPIT99 revised conclusions on the web: Rui P., João JM, Pedro FA. (Done).

Contract Print Office and follow Proceedings publication execution: Isabel N. (Done).

Colect and compile proceedings into single media:João JM (Done).

Format and revise Proceedings: João JM, Pedro FA (Done).

Update and collect alternative print office budgets: Isabel N., Pedro A., Vasco C. (Done).

Publish Abstracts on the web: Chantal B-B, Pedro FA. (Done).

Compile and prepare ICPPIT99 Finance Report: João JM, Pedro FA. (Done, checking details).

Discuss ICPPIT99 Conclusions in Task Force: João JM, Lucie L., Chantal B-B.. (Done).

Colect all ICPPIT99 photographs and videotapes, and transcripts from formal speeches: Pedro FA, Luis R. (Done, although more is welcome)

Publish ICPPIT99 CD-ROM: Pedro FA (Done).

Update Web site with clean information (Program, letters, photos, etc.): Pedro FA. (Done).
---

First Meeting Minutes:
Post-1999 ICPPIT Conference Meeting Minutes (Relator: Lucie Laurian).

On Saturday, October the 23rd 1999, some participants of the ICPPIT 99 conference, including ICPPIT99 Conference Committee members, constituted into a "contact group" ("ICPPIT Task Force") and gathered at CITIDEP Headquarters (Lisbon) to discuss various issues, regarding ICPPIT and CITIDEP. Here are the minutes of this meeting.

Were present: Pedro Ferraz de Abreu, Luis M. Rionda, Melvin King, Chantal Benoit-Barne, Isabel Torres de Noronha, Joao Joanaz de Melo, Jorge Edison Ribeiro, Tim Sieber, and Lucie Laurian. Valerie Aillaud was kept informed over the phone.
Countries represented: Brasil, Canada, France, Mexico, Portugal, USA.
---


1) VISIONS FOR THE ICPPIT CONFERENCES AND CITIDEP


- Purpose: The links between It and Public Participation are not well researched. ICPPIT conferences and CITIDEP fill-in this research gap.
- The functions: ICPPIT conferences and CITIDEP (1) create a NETWORK OF CONTACTS for research and (2) serve as a VIRTUAL RESEARCH CENTER, and as a clearinghouse for research proposals and projects.
- The strengths of this network are its interdisciplinarity and the potential for providing a space for a different way of working (mainly through available ad-hoc international and interdisciplinary partnerships).
- The structure: This network is based on a physical structure of website(s), listervs, (potentially) chatrooms on specific topics, and other collaborative tools. But some facilities in support of local "in-person" team work are also important.

---


2) WRAP UP OF THE CONFERENCE


Good points:


- Presence of all the special senior guests and very good international CITIDEP presence.

- Good contents and quality of the presentations.

- Strong institutional recognition.

- Various scientific backgrounds were represented.

- Networking did happen: people met and established contacts.

- Great student cooperation.

- Good size, no parallel sessions.

- New CITIDEP members.




Problems:


- Why didn't some come? (relatively weak CITIDEP-Portugal participation). In the future, we need to work with committed people.

- Funding deficit. There are no funds to print the proceedings, and to reimburse many expenses (made out of Pedro's pocket). We need to do some fund-raising.

- Lack of publicity for the Conference (in particular lack of media outreach and lack of publicity to students). We need to do some post-conference publicity and outreach in the media and in our institutions.
---


3) THE STRUCTURE OF CITIDEP


We needed to understand the structure of CITIDEP - and we struggled on that one ! (Check out the web site for more details: http://www.citidep.pt/org/index.html)

CITIDEP main structure consists of (1) an "Executive Committee", (2) an international "Coordinating Committee", (3) Project Teams, and (4) National Chapters.

- The Executive Committee is elected by the General Assembly of all Citidep members. For legal reasons (CITIDEP , at the moment, is only registered in Portugal), it needs to include at least 3 Portuguese CITIDEP members (or people with legal residence and fiscal number in Portugal).

- The (international) Coordinating Committee includes (1) members of the Executive Committee, (2) CITIDEP members who are responsible for some task or project at any given time, and (3) representatives from each country where CITIDEP is represented. For countries which have formal national chapters, the chair of the chapter is on the coordinating committee; single contacts in countries with no chapters, called "correspondents", are considered part of the Coordinating Committee, as long as they are involved in some CITIDEP activity.

- This "Contact group" ( ICPPIT Task Force) is composed of people who may or may not be CITIDEP members. It is composed of anybody interested in the IT- PP link, but interested in helping with the tasks needed to pursue its mission. It is an open and informal group, but a working group (those just interested in being kept informed, or in group discussion, will simply be integrated in CITIDEP mailing lists for the PPIT research community).

The current members of the contact group (ICPPIT Task Force ) include, but are not restricted to, all those present at the current meeting. They will pursue the agenda summarized here and share the tasks listed below in 5).



---

4) THE NEXT CONFERENCE

- The current model (CITIDEP plus prestiged University) worked well and should be used again.
- Several places have been proposed for the next conference: MIT (USA), Leeds (UK) and Brasil (at Jorge Edison Ribeiro's institution).
- Should it be in 1 or 2 years? This needs to be discussed by those who will organize. It emerged out of the conversation that MIT could be a good place to hold the conference next year, and that the other institutions could hold the conf. in 2 years.
- Local support and funding need to be secured. We need to do more fund raising.
- We need a better organization, with more sharing of the work.
- We should focus on publicity, media outreach, and outreach to students (before AND after the conference).
- We need to increase the participation of IT people, political scientists and economists.

---

5) WHAT TO DO NOW: TASKS

A. List of tasks for Contact Group members

List:
- Put together the list of all the participants (Pedro F.A., João J.M., Isabel N.)

Emailing:
- Mail to all participants the report of the conf. (Pedro F.A., João J.M.)
- Mail to all participants these minutes with the list of tasks, once minutes reviewed (Lucie L.)
- Invite participants to become Citidep members in a separate message (Luis R.)
- Inform all participants of the creation of the contact group/Task Force. Open it up to all. (Pedro F.A.)

Structure:
- Assist Citidep Executive Committee to create a functional Coordinating Committee (Pedro F.A.)
- The general Assembly of Citidep should renew the current Executive Committee (it should include active members). (Pedro F.A.)

Finance:
- Fund raising to cover 1999 Conf. costs, and proceedings (Pedro F.A., Isabel N., João J.M.)

Post-conf. publicity:
- Collect all media reports on ICPPIT99 (RTPi, Portuguese TV news, Newspapers, etc.)
- Collect videotapes and photos done on ICPPIT99 (Pedro F.A., Mark H-J., Yu H-J., Luis R.)
- Post-conference media-outreach and publicity : press releases to the the city, to universities, newspapers, at MIT etc.(Luis R. in Mexico and Latin America; Joao J.M. for Portugal; Mel K. and Tim S. for the US). You can use Joao's report in the closing session, focus on IT use and the international dimension of the conference.

Proceedings:
- Ask all folks for contributions to help fund raising to publish the proceedings (Lucie L.)
- Pull together feedback on 1999 conf. to be included in proceedings (Who? Isabel N.?)
- Edition of the proceedings (Isabel N.)
- Diffusion of the proceedings to journals, libraries...(Lucie L. and Tim S.)

Next conference:
- Promote discussion about the next conf : Where? When? Gather local support, ask for proposals. (Luis R., Tim S.)
- Chose among the proposals. Those who organize the next conference will take the lead. The CITIDEP Executive Committee will chose among the proposals and will base its decision on the advise of the Coordinating Committee and of the ICPPIT Task Force -- those that will make it work, after all-- and will inform and invite input from all CITIDEP membership and all ICPPIT99 participants.

Physical structure:
- Maintain the web site (Chantal B-B.)
- Listservs and access to server (Pedro F.A.)


B. List of tasks for potentially ALL participants

- Sustain the contacts and network
- Pursue contacts at a personal level
- Encourage publicity in instutions, target students...
- Participate in clearinghouse, submit proposals through CITIDEP



---