Melvin King, PhD H., Prof. Emeritus MIT, Urban Studies and Planning, leads the "South End Technology Center" Project at Tent City, Boston, an experiment to provide free or low-cost community acess to information technology.


Timothy Sieber, PhD Anthropology, coordinates the EXPO'98 Impacts Project, researching the social impacts and public perception of Lisbon's waterfront development.


Pedro Ferraz de Abreu, PhD Planning, coordinates the IMS Project (Intelligent Multimedia System), developing prototypes and researching the use of new information technologies in public and expert participation for Environmental Impact Reviews


and also heads the Citizenship and New Technologies Program.


Ana Teresa Chinita, MSc. Environment, coordinates the expert panel in the IMS Project, in particular in the area of Solid Urban Waste Management.


Manuel Antunes, PhD 'ABD' Sociology, coordinates the user survey in the Public Access to Environmental Information Project (PAEI), for the Lisbon / Tagus Valley Regional Administration of the Portuguese Environmental Ministry.


Isabel Noronha, Lic. Biology, coordinates the compilation of organic legislation within this project domain (PAEI), as well as the design of Public Access to Water Quality Data over the Internet.


Nuno Vieira, Lic. Biologia, Biology, coordinates the design of Public Access to Information and in support of complaints regarding Noise, over the Internet, for the same project (PAEI).


Lucie Laurian, PhD City and Regional Planning, leads the research proposal on the uses of new Information Technologies by Grassroots organizations.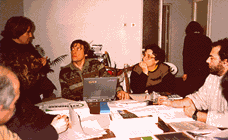 Expert Panel working session for the IMS Project

Mark Hasegawa-Johnson, PhD Electronics, develops and maintains CITIDEP Internet infrastructure in support of CITIDEP projects, leads research in Voice Recognition.


Antonio Fernandes, Eng. Electronics, coordinates the DRA-LVT Information System Project, integrating data bases, networks, internet access, and Java.


Pedro Borges, Student Electronic Eng., implements the Public Access via Web to Air Quality Data, for Lisbon and Barreiro/Seixal's Air Management Commission, using CGI technology for Internet Graph Data.


José Portela, PhD Internet and Pedagogy, leads research on the Use of Internet as Teaching Aid, heading a "Competence Center" under the Nónio Program, in Viana do Castelo (IPVC), and is a scientific adviser for the Citizenship Kit Project Proposal


João Joanaz de Melo, PhD Environment, coordinates research in the area of Environmental Planning and Sustainable Development, and the Institutional Cooperation between CITIDEP and DCEA-FCT/UNL, such as ICPPIT99.


José Manuel Palma, PhD Psychology, coordinates research in the area of Environmental Psychology and Risc Perception.


Filomena Henriques, Lic. and Pos-Grad. in Social Service, works with Municipality School Systems with a focus on the use of information technologies and learning citizenship.


Valerie Aillaud, DEA Political Sciences, prepares a project pre-proposal for the Use of Public Libraries for Public Access to the new Information Technologies.


Angela Cacciarru, MPhil Economy, studies Environmental Economy applications and analysis of Externalities, leading the respective task force in the IMS Project.


More documentation and other information relative to these and other projects, is available at CITIDEP Web site: